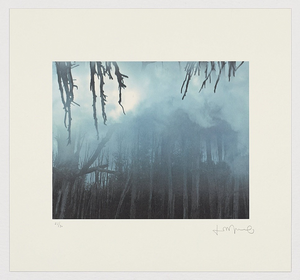 El Origen De La Niebla VIII
Litografía de Cristina de Middel (*1975, Alicante). 
Firmada y numerada a mano por el artista.  Editada sobre papel grueso de algodón hecho a mano  Incluye Certificado de Autenticidad (COA)
Lithography by Cristina de Middel (*1975, Alicante). 
Hand Signed and numbered.  Made on heavy handmade cotton paper.  Certificate of Authenticity included (COA).
•••
Especificaciones / Specifications:
- Dimensiones Soporte / Sheet Dimensions: 50 x 53,5 cm 
- Dimensiones Mancha / Image Dimensions: 30 x 37,5 cm  - Año / Year: 2019  - Edición / Edition: x/30 (*)  - Estado / Condition: Nuevo / New (esta obra nunca ha sido enmarcada ni expuesta, y siempre conservada en carpeta profesional de arte, por lo que se conserva en perfecto estado).
(*) La edición de la obra finalmente ofrecida puede diferir de la que aparece en las imágenes / The artwork's edition finally offered may differ from the one that appears on the pictures.